For over 30 years we have produced equipment that helps farmers handle seed quickly and easily.
Check out our six different livestock product lines: creep feeders, gravity tenders, bale feeders, fence line feeders, bunk feeders, and bale transporters.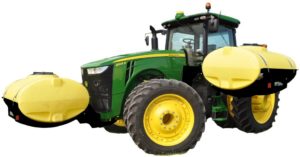 Make it possible to deliver liquid fertilizer efficiently with our fertilizer equipment. Use our configurator to find the perfect tanks for you, with pricing.
Our down corn equipment can get you through harvest when things get tough. Use our configurator to help you find the equipment that best fits your needs, with pricing.
Need a place to store your combine head? Patriot head trailers make moving and storing your combine head easy.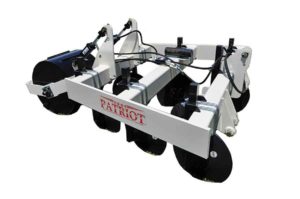 Designed to level and condition pivot tracks to make the ride smoother in today's high speed tractors.
Save your tires from today's tough corn and bean stalks with one of our shoe or roller style Stubble Crushers.
The Patriot Crop Crimper Kinks the cover crop in order to kill it prior to planting the main cash crop.
Make baling small bales a one man job with the Patriot Bale Caddie which stacks square bales into groups of 12.
If you are having trouble keeping your planter in the ground Patriot Planter Mounted Weight Brackets will add the extra weight you need.
Patriot Tractor Augers allow you to fill trucks from grain in flat storage, or an outside pile. A thrower can also be added to create large grain piles.
Our water pumps allow you to move large amounts of water for irrigation, dewatering industrial sites, or flood control.
Add a little more space to the place where you spend the majority of your day with our tractor cab organizers.
Built completely out of metal, and completely customizable, can be placed knowing they can be enjoyed for decades to come.
Cut on a 5k fiber laser, our metal wall art can be customized to anything needed. Each one is a great gift for any occasion.
Custom Manufacturing is where we began and we will continue to provide solutions to everyday problems.
Questions About any of our products? Contact us.